Play "In the Gods" (Gallery) by Alphaville
Seasonal Shopping with

Alphaville
GALLERY - Alphaville Calendar 2021
Marian Gold invites you for a promenade through the first ever Alphaville Gallery-Calendar.
Enjoy the colourful realms of the Alphaville universe and meet band members unmasked and in places offside the stage.
Wander through the pages of the forthcoming year and let the pictures tell their story. And if you want, you may create your own.
You need a further present - for yourself or others?
SIBI CANIT ET ORBI – "He sings for himself and the world", Marian Gold of Alphaville.
Did you know that there exists an unofficial Logo of Alphaville – and even such a great one?
(this beautiful swan is designed and © by the great Alexander Volkmar)
Here you can order it exclusivly as nice pendant.
THE PENDANT FOR YOUR FAN-HEART - WEAR THE SYMBOL OF ALPHAVILLE
Delivered within a stylish black paper box with silver Alphaville- Logo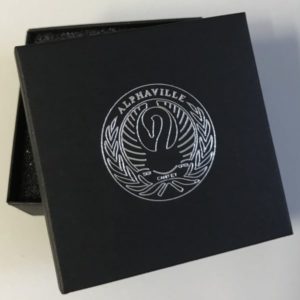 With this trailer project we support the associations "Jemen Kinderhilfe e.V." and "Förderverein Aktion Jemenhilfe e.V.".
Its members and supporters support in a very impressive way the most helpless of the helpless in the cruel Yemen conflict – children, sick and civilians! Help that really arrives through the commitment of all involved! Both associations work "hand in hand" and help where it is most needed.